Paying back an equipment lease
The company that offers you the leasing agreement will provide different ways that you can pay it back. Since you will talk with 3-6 potential lessors when you submit a free quote request through Business Finance Resource, they should be able to walk you through the various benefits of each to determine which works best.
Three types of leasing
With a skip lease, you don't have to make payments in back-to-back months. This allows you to compensate for potential slow periods of business. Skip leases are best if you have business that fluctuates during different times of the year.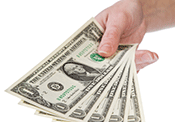 From there, a step-up lease is opportune for businesses with slow cash flow but a strong need for immediate equipment to ramp up revenue. Step-up leases allow businesses to build the company with lower initial payments so they can better handle higher payments later on.
Finally, we come to the deferred lease. This is available in 60 or 90 day increments, and lets you defer your initial payments for 2 or 3 months with no down payment, but larger payments later on.
Lease terms
Leasing terms can range from 1-5 years in length. You likely wouldn't want longer term leases since that would require you to continue making payments even if the technology of your equipment becomes outdated.
Businesses usually select a certain lease term depending on their plans with the equipment. At the end of term, the business can do one of four things:
Return the equipment to the lessor
Begin a new lease for another period of time
Buyout the lease (for a nominal fee, usually $1)
Purchase equipment at fair market value
Ask the lessor about the particular pros and cons of the four lease term agreements before making a decision.
Understanding the costs
With leasing costs, you only have two real factors to concern yourself with: the down payment and the interest rate.
The standard down payment for an equipment lease is 10% to 20% of the actual cost of the equipment. While you can arrange to put down even less, you typically earn a more favorable interest rate if you pay more up front.
As far as the monthly rate goes, small items valued around $100,000 can cost you 10% to 20% each month. Obviously, the better your credit rating and the longer your lease, the better rate you'd qualify for. More expensive equipment typically carries a lower rate - 6% to 8% - because of the higher price tag. If you use a broker to help acquire the best lease, expect to pay an additional 3% to 5% above the lender's rates.
Keep an eye out for other potential fees such as delivery and training which can cost a few hundred dollars if it's not built into your down payment or monthly rate. As previously mentioned, you can also be liable for cancellation penalties if you end the lease early in some cases.